Our Beautiful Amber, 5th OFA generation of our Foundation Bloodlines, was bred to our Handsome Boy, CH Golden Breed's Color Copy, a.ka. Z-Man producing their third litter of pups this March. Once again, they produced an Awesome litter, 10 pups, all 1 1/2 pounds at birth! We had 4 BIG boys and 6 BIG girls! Z and Amber are very sound in temperament and structure and they have consistantly produced in their other two litters beautiful, healthy, happy pups. Both of their litters were very deep in quality, health and strength.
All of our breedings are carefully researched and only done if they compliment our bloodlines and will produce sound, healthy, exceptional quality pups. CH Z-Man is an Awsome dog in his own right and is the son of Grand Victor Mar Haven 's Color Guard, The BOSS who has produced 37 Champions and many Top Quality Progeny both in conformation, herding, agility, obedience and tracking.
All of our pups are vet checked andwill have their first shots and been wormedseveral times.
If you are interested in a future litter we will be glad to set up a time for you to come visit and meet the dogs Please call 409-925-0988 to set up an appointment.
Hope to hear from you soon,
Lynn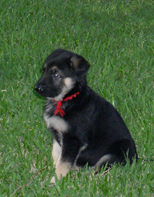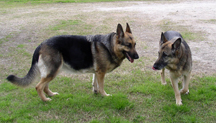 New Photos of the pups! All Getting fat & Sassy!