Welcome to Our Website!
Our goal is to consistently produce German Shepherd dogs with soundness of temperament and structure through education, research, experience and careful breeding. We may breed one litter per year and often not that. Because of the quality and bloodlines of our dogs and the personal love and care that all puppies are raised with in our home, we usually have a waiting list for litters.

Our dogs are literally our children, and, as such, we only want what is best for them. That is why we will only place a puppy in a home that will continue our commitment to this breed. We like to think that each of our puppy owners is part of our extended family, and encourage networking with us throughout the lifetime of their dog! We have many owners who have been a part of our family for 30 years and have had multiple Golden Breed dogs as part of their family.
We could "Go On" about our dogs for quite some time, but instead, we invite you to let the dogs speak for themselves. Our web site photos are a culmination of many years of our babies and each page is an opportunity to show you a pictorial history and the future of Golden Breed German Shepherds.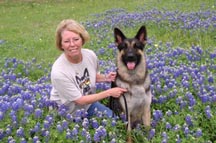 Z and Aunt Vickie after a show in the Texas Bluebonnets!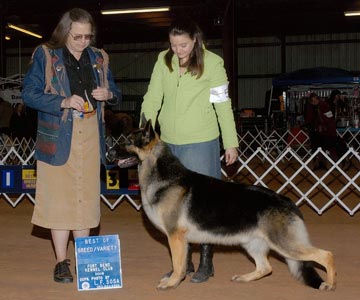 Colette & Z going BOB under judge Deana Dean
CHAMPION
Golden Breed's True Colors,
Cindy & Clint
What A Team!