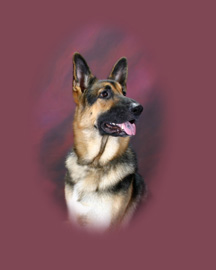 She's a Beauty...Our Glamour Girl!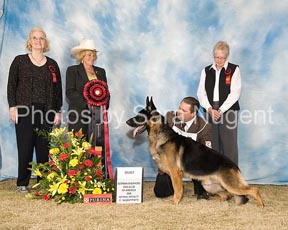 Above, bleow and to the left....
Cindys Beau... Roger
2X Select Champion Sher-Lo's
Rogue of Karizma OFA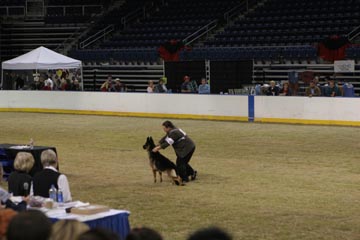 Cindy/Roger pups Below, Sarah and Esther.
Esther went RWB her very first show!!!!!!!!
Cindy's real name is "Stinker" and you can imagine why. She is Sugie's ( and BOSS') daughter, nuff said. When we bred this litter our hopes were high, knowing that GV Color Guard has consistantly produced fabulous progeny, especially in his males. According to Carolyn Martello, BOSS' Mom, "occassionally, he produces a really nice bitch, and when they are good, they are REALLY good." By the time Stinker was 5 weeks old, we all knew she was one of those special BOSS bitches. Besides being quite the typey, feminine beauty she is supposed to be, her movement is flawless. She went Best Puppy at her first dog show, the Ft. Worth GSD Specialty. When Cindy and Clint were in the ring together they were almost unbeatable. She took Tulsa by storm for 5 points and a major and finished in Ft. Bend going BOS over the specials and to her brother CH Z! That day, Z-Man went on the win Group One and it was a Day to remember for us and our BOSS Babies!
We found that perfect guy for Stinker at Nationals! We have just bred her and have folks lined up to reserve her pups. We will be ultrasounding her in 26 days and will let everyone know the results of the breeding ASAP. She is very elegant,beautiful, so sweet and a real "Flier." She is our Baby Girl and we are VERY Proud of her accomplishments. She is our reigning Princess and of course, Sugie is "the Queen!"
Our Beautiful CH. Golden Breed's True Colors, Cindy and the VERY HANDSOME, 2X Select Champion, Sher- Lo's Rogue of Karizma, Roger, had 4 Beautiful babies! 2 BIG Boys & 2 BIG Girls. All very plush, fabulous movers, and real personlities
C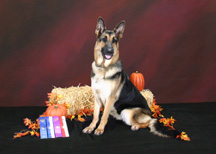 Click here to view Cindy's pedigreeCindy_Z
One of Cindy's Glamor Shots after Taking Tulsa by Storm!